Alhamdulillah, over the almost 2 decades that we've been teaching, literally hundreds upon hundreds of students have left behind detailed reviews, within Facebook comments, at our student only message boards, within surveys and sometimes emailed to us directly.
The ones posted below are screenshots of Facebook comments from our free 3-Part Mini-Class. If you'd like to view the original comments and even get in touch with the students, you can register for the mini-class by clicking here and filling the short form.
Further down on the page, you'll find reviews by older students who posted on our message board some years ago.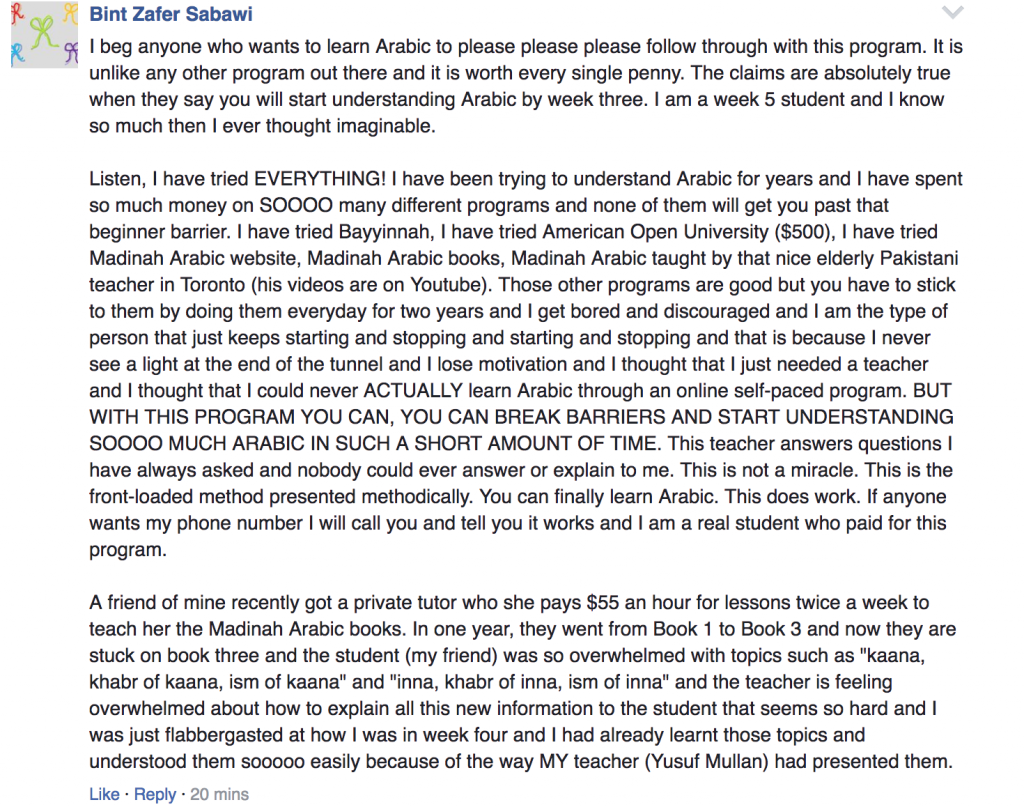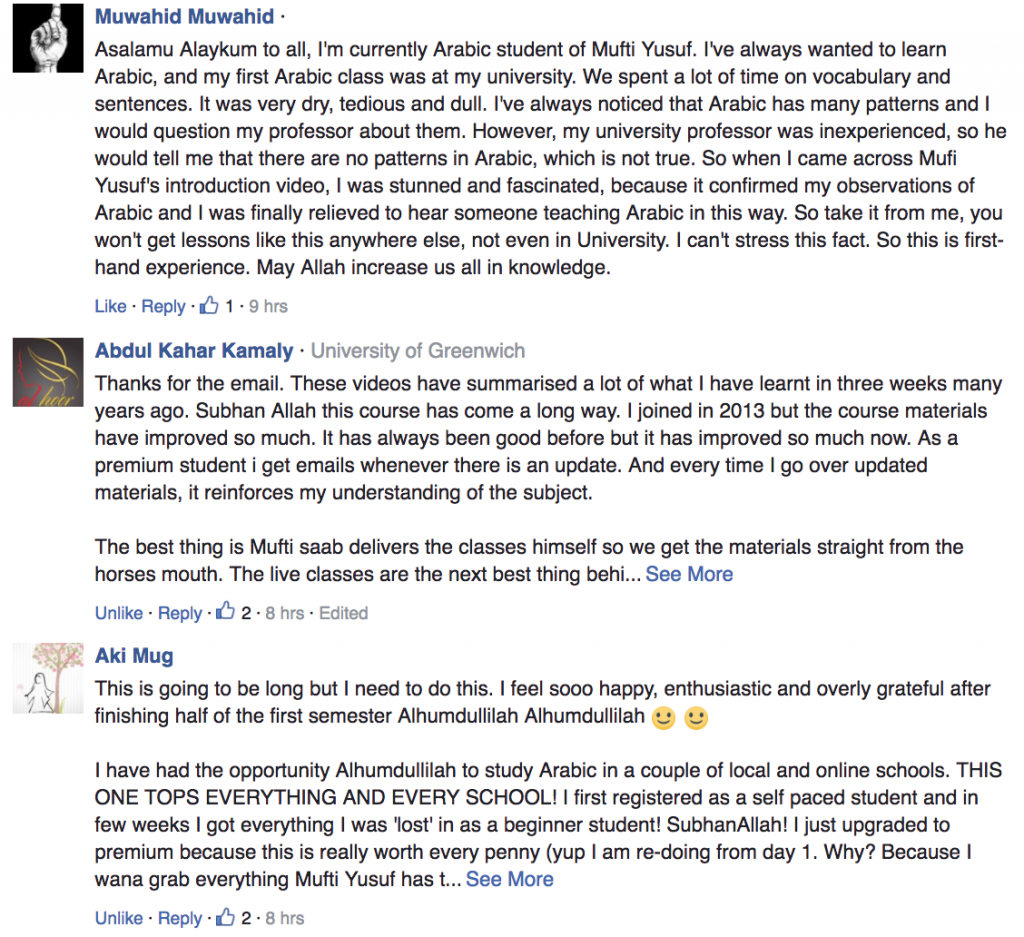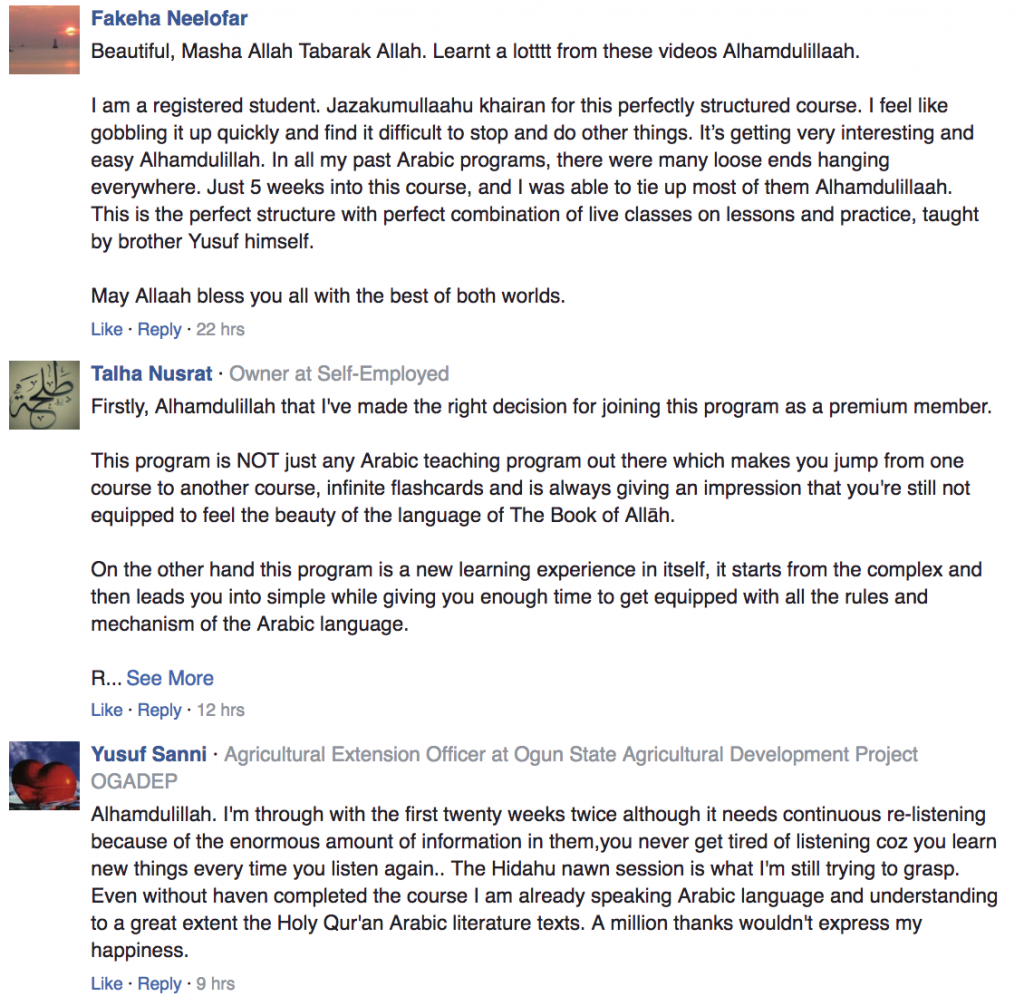 SEVEN BENEFITS OF THE SHARIAH PROGRAM
I actually wanted to post this testimonial after week 3, but witheld it until I had absorbed and understood the TSP method more completely. After 8 weeks, my enthusiasm for the course has not diminished.
Having undertaken both online and offline Arabic courses for many years (including Ibn Jabal, SunniPath & Madina books) I can safely attest that the TSP method has a system so unique that it is able to keep you motivated and is incredibly effective in progreesing you.
Since I am a qualifed English teacher, I'm in a good position to be able to analyse the reasons for TSP's success. Thus my testimonial is a little lengthy but you'll see thoroughly justified reasons. Below are just my seven top ones:
1. The whole course is logically mapped out. It's so refreshing to be able to know what your start and end point is. You can literally see all the recordings and handouts coming your way; you interact with students in the year above you, and the instructor constantly refers to this road map. Thus, you feel safe on this long journey – you have a guide who clearly knows the way, and many supportive, knowledgeable fellow travellers accompanying. Other courses don't come close just on this point alone.
2. In many large institutions the senior shaykh often designs the syllabus and may give a few live sessions but the majority of the teaching is by junior teachers who aren't as advanced or as thorough. When you graduate from a level, you get a new teacher – whose style or personality may not be as good as the previous one. TSP is unique in that we have the priviliege of having Mufti Yusuf – the designer and senior expert – not only teaching every lesson, but taking the time to even lead the mundane memorisation sessions. He has dedicated himself fully to the course so as a student you feel very privileged.
3. The fact that reading a real Arabic text from week 3 is amazing. I can't emphasise how beneficial this is. I've studied grammar points for years through countless texts, but within a few weeks I had more benefit in the TSP as the grammar comes to life. It is also highly motivating to be able to see yourself able to read an Arabic book.
4. The absence of tedious testing and exercises. In all the courses I've been on, fellow students and I have quickly lost motivation due to falling behind the onslaught of weekly tests. Just the act of creating complex tables and typing in Arabic takes hours. TSP replaces all this needless testing by focussing on the reading and understanding of the concepts; in the live sessions you are then tested verbally. Written tests are given, but only after a part of the curriculum has been thoroughly covered, and these are only every few months or so. As Mufti Yusuf says: 'Having exercises is a proof that it (the course) is deficient'.
5. Weekly verb table recitation practice. This bowled me over. I've not seen a single course (outside traditional madrassas) that does this. It's brilliant – it forces you to learn. I remember one lesson, where I didn't learn the tables in advance, I felt so embarassed with my performance that I memorised in 10 mins what I hadn't been able to memorise in the previous 2 years! This is the power of the class. Those who argue that knowledge of the verb tables needn't be so thorough should ponder on the difference between a maths student who knows their multiplication tables inside out, compared with someone who struggles, needs to use their fingers or even a calculator. The difference is clear.
6. The instructor himself. Scholars and students attest to his genius. I've never met an alim so passionate and so comprehensive in his knowledge of the language: he's like an encyclcopaedia! Not only that, but he's actually a good teacher. Most teachers, especially teachers of Islamic subjects, tend to 'present' the subject and 'kindly' leave it to the student to learn. This results in only the highly motivated learning. 70-80% of the class don't learn. In contrast, Mufti Yusuf will question you, test you and will demand participation. This may put off or even intimidate some, but I love it! Why? Because it forces me to learn – I've no choice; it's motivating and it shows that the teacher truly wants me to learn.
7. A forum which is actually alive and kicking! Most forums on other online learning institutions are dead, with only TAs and the occasional motivated student contributing. Here, posts are regular and you see an army of senior students who are shining proofs of the course itself. Mufti Yusuf himself is the most regular contributer; despite all the demands on his time, it never ceases to amaze me how promptly he returns any email, private message or post. Allah preserve him!
Oh, and all this is provided at an incredibly reasonable price.
In the interests of not making this testimonial too long, I'll stop here but I could go on. There are some downsides in my opinion e.g. website not as user-friendly as others, but everything besides the Quran and Sunna has to have some deficiency. The advantages outweight the few disadvantages like a mountain would outweigh a few stones. If, like me, you've tried Arabic and failed, then you've now arrived in the promised land.
Don't just take my word for it, read all the other countless testimonials and download the first week's course for free. Feel free to email me any questions on: smilingsufi@hotmail.com
Wassalam
Tushar Bhuiya (Leicester, UK)
A UNIQUE EXPERIENCE
I want to take this opportunity to share my thoughts about the Shariah Program course that I started in October 2009. As a quick background, I studied level 1 Ibn Jabal in London and took Intermediate Arabic 1 and 2 with SunniPath. Initially I was somewhat hesitant to start this course from beginning but within first few weeks I realised the structure of this course meant that it was adding to everything I had been exposed to and forming a much clearer map of the language. The course has never felt boring despite my previous exposure and the students are always being stretched and steadily taken to the next level:
In my opinion, a combination of the following factors makes this course a very unique experience:
1. An outstanding ustadh who loves the language and *really* wants his students to succeed.
2. The use of the "Darse Nizami" system that has been tried and tested for many decades, the system is further enhanced with the new age tools.
3. Timely introduction of concepts, followed by the technical terms, and their repetition to drill them in as opposed to rote memorisation and lengthy assignments.
4. The clarity with which the recorded material is delivered in a succinct way and most crucially the ability to go through a concept as many times as it takes to grasp it.
5. The parallel study of grammar (nahw), morphology (sarf) and application of these concepts by studying a well known text called The Stories of the Prophets.
6. A very vibrant, helpful and dedicated 'community' present on the forums, who are passionate about learning this blessed language and always try to help each other. I think it's crucial and unique that students at different levels of learning are all able to interact with each other.
7. There are many others things that can be mentioned here but I think it would suffice to say that I have found this course to be real blessing and I am very grateful for the opportunity to study under Ustadh Yusuf and alongside some of the most dedicated students, who are a real inspiration.
I pray that Allah (swt) blesses us all with the opening to learn this blessed language thoroughly and that we all become the ahle-quran.
Wa ma tawfiqi illa billah.
wa-salaam
Faisal

MANTIQ REVIEW
Quite a few years back I attended an Islamic lecture and I remember the lecturer mentioning how logic wasn't taught anymore, and basically what a great loss that was for us. That's when I had a desire to learn this subject. I didn't really know what it was, except that it was an important subject and one worth studying:
Alhumdulillah a few years down the line I've been taught it and taught it too with nothing left to be desired except mastery of it. I can't believe how deep a subject it is and how easily some criticise it or think it retarded. This is what Ibraheem (alayhi salaam) was praised for when he used it. If this isn't the root of wisdom then I don't know what it can be called.
The teacher can understand thoroughly the eloquent speech of Imam Ghazali. I believe many other scholars could not understand it the way he does nor teach it like him, he has taught it in such a way that a novice like me has grasped the concepts of correct logical reasoning and increased her understanding of the Arabic language. His bringing a certain book or topic into the program is thought out, exactly what the student needs, although s/he may not understand or appreciate this straight away.
Everything I'm learning here is setting a foundation for me and not only is it increasing my yearning to learn more of the deeni uloom it is feeding it. If you are thinking about joining this course then my advice would be join it and if you are under the misconception of the light (for knowledge is nur) from your teacher entering your heart because you are not learning face to face, rest assured. Know that tawfeeq is only from Allah Ta'ala and persevere. You will come away with more than understanding of the Arabic language.
Originally posted by Sister Ayesha at our former student Message Board

THE RIGHT PLACE FOR LEARNING ARABIC
InshaAllah, I will be completing my second year of the Shariah Program in a few months. I am able to read and grammatically analyze sentences of books without any typed inflection.
Before taking the Shariah Program, I had studied one level of Arabic at the university of Damascus institute for foreigners. They focussed on vocabulary and had no Islamic context in their teachings.
At the Shariah Program, the focus is on grammar and morphology, to allow the student to build a solid foundation for reading Arabic. The context is also, of course, Islamic. I have found this approach to be unquestionably better.
I have found that the online medium for classes is very appropriate for learning. During the classes, any relevant material can be posted immediately on your screen. Material displayed on screeen can be captured for your reference. Q & A is very straightforward – you can post a question as soon as it comes to your mind without the worry of interrupting the instructor.
The Shariah Program makes sufficient use of online facilities. There is a forum for posting questions or material. Most of the books used in class are scanned and available for students for easy access. Convenient tutorials are also available for learning.
In summary, if you are serious about learning Arabic, the Shariah Program is the right place.
Saad
MY TESTIMONIAL 🙂
I am currently a 2nd year student of the program, just joined a few months ago, and Alhumdulillah I have learned so much already. I was searching for a "proper" Alimah course since the past 2 years. I had already done my first year with a graduate of Darul Uloom- Al Madania in Buffalo and covered about 8 or 9 books in a year, side by side. My teacher moved away so I started searching for another course:
After speaking to Mufti Sahib a few times regarding some grammer questions on a forums site, I noticed how easily I understood things because Mash'Allah he explained it so well. Then I came to know about the Shariah Program, at first I was hesitant in trying out an online program because I thought if I studied face to face with a teacher (like I was doing before), I would learn better and it would be more beneficial for me. But then I decided to give this a try and I joined the program and wow I was really wrong!
Masha'Allah I have no words for this program, Allah has truly blessed me by guiding me towards this and I am so greatful. Mufti Sahib is such an amazing teacher and even though our course is only a weekend course–there must be so much barakah in this course because even though we move at a moderate pace, we end up covering so much. That is to say, what I covered with the Buffalo curriculum (going 5 times a week for 4 hours each day) in one year, this course covered in 3 months (being a weekend course)! Subhan'Allah
Even though this class has currently finished thier first year, Masha'Allah I feel like they've already covered 2 years of the course in this past year.
Like Mufti Sahib said, this 2 year course covers everything you would learn in 3 years of an Alimah course.
I feel like I didn't learn as thoroughly in my madrassa as much as the students have learned in this course. Mufti Saheb goes into so much detail, and maddrassas usually leave those parts out when teaching.
Another thing I liked was that we start reading classical Arabic texts (without any vowels) after about 6 months into the course, whereas in a normal madrassa, that wouldn't start until 2nd or 3rd year.
I am just so thankful to Allah for showing me this course, and may he make it easy for all of us, and may it benefit us in this world and the next. Ameen.
Originally posted at the message board by Sister Amina
BEST DECISION I COULD HAVE EVER MADE
I am a 2nd year student of the shariah program, and looking back over the months that have passed, I feel joining was the best decision I could have ever made.
For sisters, there are many courses available, but I have found that the level falls short of the level at which brothers are taught. This course, for me, was the first and only opportunity for a sister to really excel in the Arabic langauge. What I can get and have gained from this course I don't think any sister in the world can get it elsewhere and I am sure of it.
Having previously studied at many madaris, the pace and methodoligies used to teach the course are very unique and work well. This course is full of knowledge and is for serious students who have a goal in mind and are determined to achieve it:
One of the greatest things about the course, is without doubt the instructor, our respected Mufti Yusuf Mullan, who dedicates much of his time and efforts in delivering the course. Had it not been for his sincerity and care for the students, the course would never have been the success it is today. Allah grant him the best of both worlds. Ameen
Originally posted at the message board by Sister saf1989

ANOTHER 2ND YEAR STUDENT
Assalamu alikum,
My name is Hefsa. I'm a second-year student with Shariah Program and I wanted to take a few minutes to share my experience learning Arabic over the past 2 years. As a mom of 3, I never imagined having the time to learn this beautiful language. When hearing about the classical method and flexible schedule at Shariah Program I decided to give it a try. Deep in my heart I knew I wanted to finally take time to understand the meaning of the Qur'an. The amount of information I have learned over the past year and a half is amazing. The details of Nahw and Sarf that we drilled down on precisely, prove to be so beneficial now that we are doing tafseer of Qur'anic verses. There has been live student-instructor interaction every week, which is incomparable to other online courses.
The material is challenging, but the detailed explanations in the lectures by Mufti Yusuf, and helpful fellow classmates make the learning experience very effective.
Now that I have come so far along in this course, I definitely recommend it to those individuals who desire to learn online. Through the interactive and collaborative method provided by the shariah program, one is able to gain the same knowledge at their convenience.
BEFORE THINKING OF GOING OVERSEAS…
I studied in Shariah Program up till the end of Hidayatun Nahw and subsequently went to study Arabic in Egypt.
Some brief observations:
– Early level students (less than one year of study) in Egypt have good speaking ability, but are weak in understanding nahw. For me personally, I felt that the nahw rules were being explained well, since I had previous exposure to the language, but the other students were completely clueless.

– Students study books of nahw like ajurrumiyyah and beyond, but their reading is weak. Students had been reading books with tashkeel for a long period of time and all of a sudden are expected to read books without tashkeel, so they have a difficult time doing so; contrary to shariah program, in which we were slowly introduced to reading without tashkeel and explained each individual word, they are expected to read whole chapters. Naturally, they make many mistakes, but the teacher just corrects them without explaining why.

– Only students who have studied for a long period of time are strong in nahw and reading, as opposed to ShariahProgram, where one obtains these skills rather quickly.

– Sarf is a weak point, even amongst advanced students. Although detail books are studied in sarf, emphasis is not placed on memorizing and repeating charts, which results in a lack of fluency:
-That being said, I would strongly recommend people to study arabic in the Arab world. I have been here for only 3 months and I feel like I have made significant progress in my speaking, composition, listening, reading comprehension, and nahw/i'raab.
However, one should study the essentials of sarf and nahw and practice reading with a teacher prior to coming here. There is no comparison between studying the language in English versus studying the language in the Arabic medium.
However, properly understanding the Arabic-medium instruction is not possible (IMHO) without having previously studied it in one's own language.
The teachers, although very knowledgeable in the language, do not necessarily understand all the challenges that a non-native speaker has in picking up the language.
I would recommend a doing a solid course like the ShariahProgram (I don't know of any course superior to it), then studying overseas for a year to bring your language to the next level. Additionally, it is beneficial to start with group classes (for something like Bayna Yadayk or al-Kitab al-Asasi book 1), as this will facilitate speaking, then switch to private instruction in order to go at a quicker and more efficient pace.